*this post includes affiliate links I have with Amazon*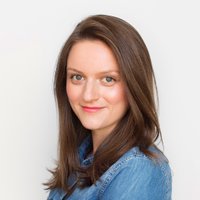 Hello everyone! So, today I am doing something I haven't done in a long while: an interview. I'm pretty psyched to get back into doing them and I'm really excited because today's interview is with Katy Loutzenhiser, the author of If You're Out There*! It just came out earlier this month, and I can't wait to read it! Before we get into the (not spoilery) interview, here is a synopsis of the book, via Goodreads:
After Zan's best friend moves to California, she is baffled and crushed when Priya suddenly ghosts. Worse, Priya's social media has turned into a stream of ungrammatical posts chronicling a sunny, vapid new life that doesn't sound like her at all.

Everyone tells Zan not to be an idiot: Let Priya do her reinvention thing and move on. But until Zan hears Priya say it, she won't be able to admit that their friendship is finished.

It's only when she meets Logan, the compelling new guy in Spanish class, that Zan begins to open up about her sadness, her insecurity, her sense of total betrayal. And he's just as willing as she is to throw himself into the investigation when everyone else thinks her suspicions are crazy.

Then a clue hidden in Priya's latest selfie introduces a new, deeply disturbing possibility:

Maybe Priya isn't just not answering Zan's emails.

Maybe she can't. 
Now, let's get into the interview….
To start off, how did you come up with the idea behind If You're Out There and what was first running through your mind right after you thought of the idea for it?
The premise for IF YOU'RE OUT THERE came about after a friend ghosted me in real life. It was strange, and sad, and it took me a long time to process. But in the end, I had to accept it as one of my life's little mysteries. Still, a thought kept bugging me: What if this had happened to a friendship I'd been more secure in? A soul mate friend? A rock? I got a little obsessed with this question. And then the proverbial light bulb appeared! When the idea hit me, it was just a fact: I had to write that book!
Were there any specific experiences in your life that you think lend themselves to you becoming a writer/writing If You're Out There?
I think the thing that most helped me become a writer (beyond a lifelong interest in people and their quirks) was my stint as a comedic improviser in Chicago after college. Even now, though it's been years since my days of taking classes and doing little black box shows, I use my training constantly. It helps me get into the minds of characters, to trust my instincts, and not judge my work in the moment. Honestly, I recommend improv to everyone—whether you have creative aspirations, or just want to loosen up and meet some nice people, it's something I think everyone can benefit from.
Is Zan, Priya or Logan based on you or anyone you know in real life?
My characters are never a one-to-one with people in my real life. But I will say, both Zan and Priya have a lot of my friends in them, not to mention pieces of myself. And the dynamic between them is absolutely something I've lifted from real-life friendships. I've been lucky to have several practically-family type friends in my life! As for Logan, he's definitely his own invented character, but I snagged a lot of his humor and heart from my husband, who is pretty awesome.
Something I hear often is that it can be hard to write a mystery novel because of needing to keep at least one step ahead of the reader, did you find this true at all while writing If You're Out There?
Absolutely! I've always thought of myself as more of a contemporary writer, so the mystery was a challenge to construct. I had fun wrapping important clues in other distracting elements – like romance, nostalgia, or comedy. Hopefully, I managed to stay ahead. I guess that's for the readers to decide!
If you weren't a writer, what do you think your job would be?
I could imagine myself being a preschool teacher in another life. There are few things I enjoy more than having serious, philosophical conversations with little kids.
What is your favorite thing about writing and what is your least favorite thing?
My favorite thing about writing is either the revision stage (especially if you have a brilliant editor like I do!) or that period when the characters start to take over in my head. I love the moments I have to leap out of bed to capture some dialogue. It almost feels like I didn't have to do anything. My least favorite part is without question the blank page. It's terrifying!
Was there anything you found surprising either in writing the book or in the pre-debut process in general?
I think the most surprising thing pre-debut was the community I found. I've met so many big-hearted writers, who are both excited and nervous to see their work out in the world. We've formed a great support system and I'm grateful for it.
Were there any specific authors/books you read from, or entertainment you watched, to, for lack of a better word, 'prepare' you in any way for writing a mystery book?
To be honest, I didn't read a lot of mysteries while I was writing this—maybe because I didn't want to be inadvertently influenced by anything. I did think back to some of the twisty-turny books I enjoyed in the past, by authors like E. Lockhart and Liane Moriarty. Also, once I started querying agents, I began hearing comps between my book and Veronica Mars (which I somehow had never seen) and binged the whole thing while I was revising. (I'm absolutely a fan of this comparison now, by the way!)
And, for the final question, is there any advice you have for writers hoping to become a published author?
Write the book you can't not write. Whatever that means for you. Not what's on trend or any other nonsense you might be hearing. While you're in the creative stage, don't worry about how the book might be packaged, or whether your story is something people are going to want (trust me—my little comedy/mystery/thriller/romance/friendship story sometimes felt like a tough sell before finding an agent). When you sit down to write, just remember, your greatest asset is you: your voice, your way of looking at the world. That's what's going to make your book special. And later on, if you find yourself getting offers from agents or editors, listen carefully to what they have to say. What's their vision for you? Do they "get" your book? Do they "get" you? Find the people who want to make your work feel even more you.
And that's all for the interview! Thank you to Katy for answering my questions! Feel free to follow her on Twitter and Instagram, and make sure to check out her book If You're Out There*! Now, have you read If You're Out There? If so, what did you think? Let me know in the comments below!! (no spoilers please) Thanks, have a great day/night, and tata for now!
Angel
*this post includes affiliate links I have with Amazon 😀