*this post includes affiliate links I have with Amazon*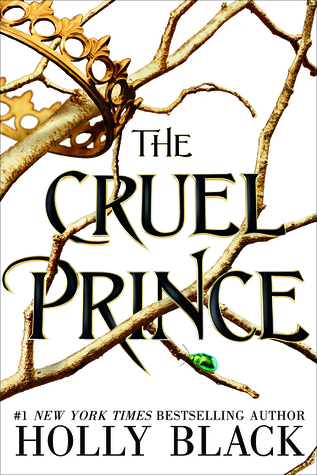 Hello everyone! So, when I went to Book Con 2017, I got an ARC of The Cruel Prince* by Holly Black. I didn't know anything about but it was there so I got it. Fast forward a couple months and I start to hear people love it and people are dying to get it and I'm like whaaaaaaaaa?! Fast forward a couple more months (October 2017) and I decide to jump on the hype train and read TCP because I gotta know what everyone's talking about and OHMYGOD GUYS I GET IT NOW!!!!!
*Editor's note: though you are reading this now, 5 million years after I wrote this review, this was written 2 seconds after finishing TCP*
LEGIT IT IS AWESOME OMG OMG OMG OMG OMG OMG THE HYPE IS WORTH IT YOU SHOULD READ THIS BOOK AND YOU SHOULD BUY IT AND YOU WILL ALSO DIE OVER WHAT HAPPENS OMG okay before I freak out anymore and do my (non-spoilery) review, here is the synopsis, via Goodreads:
Of course I want to be like them. They're beautiful as blades forged in some divine fire. They will live forever.

And Cardan is even more beautiful than the rest. I hate him more than all the others. I hate him so much that sometimes when I look at him, I can hardly breathe.

Jude was seven when her parents were murdered and she and her two sisters were stolen away to live in the treacherous High Court of Faerie. Ten years later, Jude wants nothing more than to belong there, despite her mortality. But many of the fey despise humans. Especially Prince Cardan, the youngest and wickedest son of the High King.

To win a place at the Court, she must defy him–and face the consequences.

As Jude becomes more deeply embroiled in palace intrigues and deceptions, she discovers her own capacity for trickery and bloodshed. But as betrayal threatens to drown the Courts of Faerie in violence, Jude will need to risk her life in a dangerous alliance to save her sisters, and Faerie itself.
Okay got it? Good. Now let me explain why I love this book and need the sequel yesterday:
Plot (A+): I went into this book not knowing if I would like it, and, tbh, thinking I probably wouldn't like it since I'm not too into faeries but omg guys this was goooooooooooooddddddddddddddd! The Cruel Prince is such an interesting and fresh take on faeries and it combines it with the kind of awesome fantasy we're seeing now in YA but it makes it different and ohmygosh I love it!!!!!!
Setting (A+): The setting is one of my favorite things in TCP because it's so beautiful how everything is described and it's so cool and it played out like it should be a real movie (I REALLY NEED THIS TO BE A MOVIE OKAY IT HAS TO BE THIS IS TOO GOOD NOT TO BE) and y'all I'm dead. Like omg I can't stop thinking about this book and I know I finished it like 20 mins ago and of course I'll still be thinking about a book 20 mins later but guys this was so good omg.
Characters (A+): The characters are fabulous and so well written and Jude, the MC, and actually most of the cast (if not all) are written in ways where you shouldn't like them but you do and you hope they succeed and you want to see what happens next and OMG I just love this bookkkkkkk
*Editors Note Pt 2: I would like to point out that I really like how both Jude and Cardan are written though I hate shipping them because he was abusive to her and I'm not down for that and that is all. I do love all the fan art of them, though, and appreciate the effort and beauty of it*
Overall, the plot is downright amazing like it is frighteningly awesome how well TCP played out and the entire time I was reading TCP all I could think about was something Alvina Ling, the VP, Editor in Chief, at Little, Brown Books for Young Readers said in a note at the start of the book: "Oh. My. God. That one scene in particular – you'll know what I'm talking about….." I was thinking about that the entire time and OMG it rings true but there are several scenes like that and I think I'm dead because the plot of this book is amazing and I love the characters and the chemistry and I love the worldbuilding and the setting and I need more that's all I ask for OHMYGOSH WAS THE CRUEL PRINCE GOOD AGHHHHHHHHHHHHHHHHHHHHH
Now, because we gotta chill lol, have you guys read The Cruel Prince*? If so, what did you think of it? Let me know in the comments below!!! Thanks, have a great day/night and tata for now!!
Angel
*this post includes affiliate links I have with Amazon 😀