*this post includes affiliate links I have with Amazon*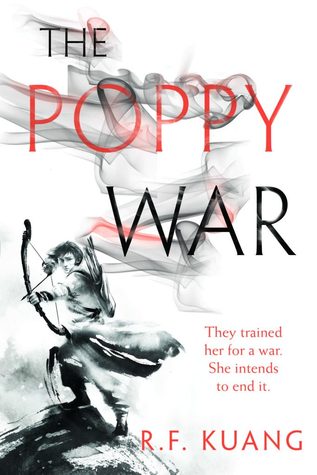 Hello everyone! So, today I bring to you a review of a book I've heard a lot about around Twitter: The Poppy War* by RF Kuang. So many people were talking about it and raving about it so I decided to read it and now, weeks after I finished the book, I feel like I can 'words' a little better lol Before I get into the (non-spoilery) review, here's the synopsis, via Goodreads:
When Rin aced the Keju, the Empire-wide test to find the most talented youth to learn at the Academies, it was a shock to everyone: to the test officials, who couldn't believe a war orphan from Rooster Province could pass without cheating; to Rin's guardians, who believed they'd finally be able to marry her off and further their criminal enterprise; and to Rin herself, who realized she was finally free of the servitude and despair that had made up her daily existence. That she got into Sinegard, the most elite military school in Nikan, was even more surprising.

But surprises aren't always good.

Because being a dark-skinned peasant girl from the south is not an easy thing at Sinegard. Targeted from the outset by rival classmates for her color, poverty, and gender, Rin discovers she possesses a lethal, unearthly power—an aptitude for the nearly-mythical art of shamanism. Exploring the depths of her gift with the help of a seemingly insane teacher and psychoactive substances, Rin learns that gods long thought dead are very much alive—and that mastering control over those powers could mean more than just surviving school.

For while the Nikara Empire is at peace, the Federation of Mugen still lurks across a narrow sea. The militarily advanced Federation occupied Nikan for decades after the First Poppy War, and only barely lost the continent in the Second. And while most of the people are complacent to go about their lives, a few are aware that a Third Poppy War is just a spark away . . .

Rin's shamanic powers may be the only way to save her people. But as she finds out more about the god that has chosen her, the vengeful Phoenix, she fears that winning the war may cost her humanity . . . and that it may already be too late.
Sooooo, that's a bit to take in. Like I said above, when I went to go read the book, I knew next to nothing about it – I might have only read the first paragraph of the synopsis lol – I had just heard a lot about it and a lot of people loved it so I was like "might as well!" I also knew it was a lot at times but I didn't realize just how a lot it was….
there was a lot that happened in this book like A LOTTTTT and, to start, I do want to tip my hat to the author because it is incredibly complex and I wanted to acknowledge just how much effort that probably took (you will understand and appreciate too if you read the book)
there is a lot of violence in this book which stems/goes back to the whole war thing and because of everything that happens in this book (seriously, there should be trigger warnings on pretty much every page for a bunch of different things) I ended up having to desensitize myself just so I could get through it and I'm pretty sure that's not what the author would have wanted. But, so much horrible things kept happening or being discussed that I had to essentially separate emotion & thought from the words.
at the same time, the book doesn't go into a ton of great detail most of the time….there's just so much packed into the book that there doesn't seem to be many (maybe 1-2) breaks of happiness or anything and that can end up overwhelming, even though I understand that (survivors of) war most likely has next to none kind of snippets of happiness in it.
essentially, I don't really know what to make of the realistic side of this book. it's very timely (unfortunately) and that probably plays into the emotion-thought part of it, and it is marketed as an adult book. But it also just feels like a lot and as a reader going into this not fully knowing what the book was, it was overwhelming most of the time. I both wanted to take a lot of breaks/even DNF it and also just wanted to read it all in one go as fast as I could so I could be done with it.
also the fantasy part both made sense and didn't make sense and idk how or why it just did and I'm like ??!?!?! (ps I've basically given up on the whole "I can write words well" part. sorry about this review lol)
I mean, once it started getting introduced it was like "ehhhh doesn't really make sense but ok" and then it was like "mmmm fine since you're breaking all the rules anyway" and then it went to "?!??!!?" and then lastly "fine." and it was just "?????"… I don't know if any of that made sense but like, by the time the fantasy part was introduced, the book felt like it had already set itself up and grounded itself into realism and, of course fantasy might have some realism included in it, but it just felt off/a little wrong when the fantasy was meshed into the realism and it just continued after that. like two puzzle pieces that didn't really fit but were smashed together anyway bc why not.
there was a tinsy bit of romance that tried to make it into the book and I was shaking my head the entire time like bruh no and why
the characters were also interesting for me in that I have no extreme emotions of love or hate for any of them. i just don't really care about any of them??
All in all, I don't know what to make of this book. I know I spent most of the review dragging it/being confused about it but I also really appreciate the complexity and thought behind it and it wasn't all bad of a book, I just don't think I fully realized what I was getting myself into. So, I don't know how I feel about this book and, I'm not going to not recommend it to anyone but at the same time, when you do read it, just know there should be a lot of trigger warnings for this book (i am not joking) and if you want to know them, you should check out Aentee from Read At Midnight's review because she includes them there.
Anyways, if you've read The Poppy War, what did you think of it? If you haven't read it, do you think you will? Let me know in the comments below!! Thanks, have a great day/night and tata for now!!
Angel
*this post includes affiliate links I have with Amazon 😀