*this post includes affiliate links I have with Amazon*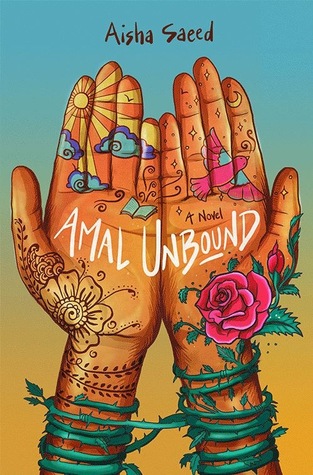 Hello wonderful people of the world! So, today I get to spotlight Amal Unbound* by Aisha Saeed! Now, Aisha Saeed is also the author of the amazing Written In The Stars* which is an eye-opening book about arranged marriages and a Pakistani-American's experiences with it. Like I said, it's pretty amazing so when I found out that Aisha had written another book I might have fangirled a little (or a lot lol) and then jumped to be on the blog tour for it (thank you Friya & Penguin Teen!) To begin the spotlight, the following is the synopsis of Amal Unbound, via Goodreads:
Life is quiet and ordinary in Amal's Pakistani village, but she had no complaints, and besides, she's busy pursuing her dream of becoming a teacher one day. Her dreams are temporarily dashed when–as the eldest daughter–she must stay home from school to take care of her siblings. Amal is upset, but she doesn't lose hope and finds ways to continue learning. Then the unimaginable happens–after an accidental run-in with the son of her village's corrupt landlord, Amal must work as his family's servant to pay off her own family's debt.

Life at the opulent Khan estate is full of heartbreak and struggle for Amal–especially when she inadvertently makes an enemy of a girl named Nabila. Most troubling, though, is Amal's growing awareness of the Khans' nefarious dealings. When it becomes clear just how far they will go to protect their interests, Amal realizes she will have to find a way to work with others if they are ever to exact change in a cruel status quo, and if Amal is ever to achieve her dreams.
[Related: Children of Blood and Bone by Tomi Adeyemi – Review]
WOWWWWW sounds interesting, eh? I'm about to start reading it today and I can't wait to read it myself! I mean, right off the dot, Amal wants to be a teacher and loves to learn which I definitely connect with as I loveeeeeee learning new things and am actually considering teaching one day though I can't seem to pick between elementary or college students lol Also, there seems to be a bit of mystery in it with the whole "nefarious dealings" bit and as a huge mystery fan, I am really interested in seeing what will happen! Last but for sure not least, THAT COVER THO!!!!!! It looks soooooooo good!!! I got an ARC of it and a poster and the second I saw it, I'm pretty sure I spent like at least five minutes just staring at it and weirdly petting it lol seriously, it is soooooooo beautiful!
Anyways, Amal Unbound* is a surprisingly small book (following in the footsteps of Written In The Stars) so with the summer break coming up for us Americans – and most likely breaks for everyone else – you should definitely pick up Amal Unbound and chill on either the beach or your couch for a quick, interesting read! After, you should also read Written In The Stars* because it is realllllly good!!! Now, on a scale of AHHHHHHHHHHH I CAN'T WAIT to OMGGGGGGGGG I REALLY CAN'T WAIT, how excited are you for Amal Unbound?? It comes out May 8th…. Let me know in the comments below!! Don't forget to check out Aisha's author bio below too! Thanks, have a great day/night and tata for now!
ABOUT THE AUTHOR:
Aisha Saeed also wrote Written in the Stars, and is a Pakistani-American writer, teacher, and attorney. She has been featured on MTV, the Huffington Post, NBC and the BBC, and her writings have appeared in publications including the journal ALAN and the Orlando Sentinel. As one of the founding members of the much talked about We Need Diverse Books Campaign, she is helping change the conversation about diverse books. Aisha lives in Atlanta, Georgia, with her husband and sons.
Angel
*this post includes affiliate links I have with Amazon 😀